I have been meaning to post a review on these pens for a little while now, but have been busy with the 100 Days challenge, and work in general…!
I received these pens from my partner for Christmas last year. I had been looking at them for some time, but they were fairly expensive for the big set, and I wasn't sure if they were something I was going to use a lot. I use watercolour as my main media when I'm painting/drawing, so I was intrigued to see how good they would be.
I got the 96 pen set – which has a really amazing range of colours. I don't think I have gotten even lose to trying them all out yet!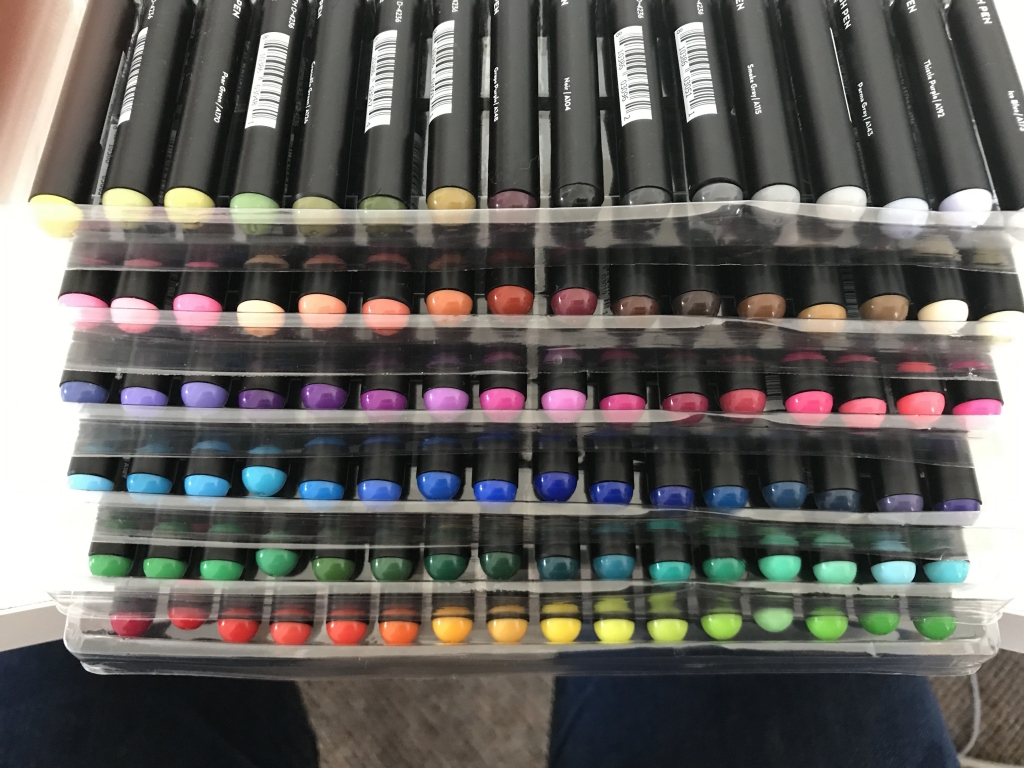 I have used these pens in a variety of ways… firstly, like felt tip pens or markers.
Nice and easy to use, the pens have lovely thin tips so you can use them easily to colour in, then to go over to build up colour and shading. I also used the water brush over the top to help blend, or to lighten out the colour in places.
I also used them with traditional watercolours, and with the water brush…
They blend beautifully, and there are so many colours! These are great for sketches to get an idea of colours and to get some ideas down on paper quickly. I have used these on both normal sketch book paper and on watercolour paper and they blend perfectly on both, and the colours look great.
I have also used these purely on their own, and then with the watercolour brush to get some different effects, good for fiddly bits and for getting some crisper lines.
Finally, I have used these pens for a little bits of brush calligraphy…
They seem to work best when you go over them with the water brush pen personally, but I am not an expert on brush pen calligraphy so this may be down to my skill rather than the pens!
If you use watercolour in your work, or enjoy playing around with art and craft materials, these pens are brilliant. Well worth the money and enjoyable to use, I'll be using these more and more in my work, both on their won and alongside traditional watercolours and ink.