May 2020 marked 10 years of being a freelance Graphic Designer (amongst many other things…) Due to a pandemic, a lockdown and life generally being a little bit different to how I expected this year, I didn't get to really celebrate or mark the occasion. So in between online courses, DIY, knitting and box sets, I sat down and wrote some things about reaching this milestone…
I graduated in 2009, just after a massive recession. I didn't go from A-levels to University, (that would have been too easy…) After my A-levels, I went to the local college to do my Art and Design Foundation Course (a necessity before an Art or Design based degree back in them days). After completing this I spent some time working and saving money, then flew to Florida with an older friend of mine, who was moving her family to Florida to live and travel on a sailboat. I stayed and sailed with them for 6 months, from Florida, down to the Keys, to the Bahamas, Bermuda, The Azores, Northern Spain and finally Mevagissey and then Plymouth. Once I was home, I ended up working as a barmaid at my local Yacht Club, meeting someone and moving in with them, and starting a job as an apprentice sailmaker. After a year, I realised this was not for me and I really wanted to go to University, so I reapplied for Graphic Design, got a place at Plymouth University, and the rest, as they say, is history.
I graduated with a 2:1, and before I had even completed my course I started applying for jobs, in a tricky job market. My first job out of Uni was "Communications and Information Officer" for Devon Carers Link, working in Exeter 2-3 days a week. I enjoyed the job, but it was only part time, and whilst studying, I had helped a few friends with graphic design for their companies etc. After a small quarter-life crisis, I decided to take matters into my own hands and go for it… become self employed.
I started Laurapakora Design in the May 2010. The name comes from a nickname I was given by a friend at school that stuck, and I thought it would be easier for people to remember than my actual name. I had a MacBook, a spare room turned into an office and 2 clients. I wrote a business plan, had to go and have a meeting with the bank manager in person to open a bank account, and bought myself a domain and an email address.
I had 2 clients to begin with – some of the work from my job at Devon Carers Link was now a freelance job, and some work for a friend's local business. I designed a logo (unfortunately I can't find my original logo, but it was pink script… not my proudest moment) and built a website and slowly built up a few clients.
By the end of 2011, I had built up a portfolio of work, taken on some more permanent clients and started a contract with a local business. They ran 2 businesses – Daisy Memories – biodegradable wicker and bamboo coffins and urns, and DCUK – the Duck Company, selling wooden ducks (and other animals eventually too). I rebranded – you can see the 2 versions of this logo I used for the next few years: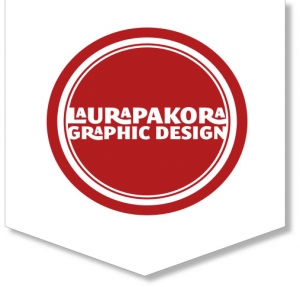 I worked a few days a week in Totnes with this company for a few years. I took on more and more work, and was nominated and shortlisted for the local Young Entrepreneur of the Year in 2012. In late 2013 I was contacted by the Met Office and asked if I would like to work a 3 month full time contract in their design studio. I left the Duck Company and Daisy Memories at Christmas, and started at the Met Office in January 2014. I loved the job, it was great fun and I enjoyed working part of a team. I was nominated for a commendation at their Annual Awards Ceremony for some work I did on icons and presenting the weather online and in an app. I started an Etsy store around this time, selling cake toppers which I had been making for friends and family at the time.
By the middle of 2014 I was going through a bit of a rough patch personally, and due to this I started working down at my local yacht club again as a barmaid to top up my earnings. The job evolved and grew into Front of House Manager – I was already on the committee and involved heavily in the sailing side, and had been doing some work for them anyway, and this became more committed. I carried on working freelance and at the club, until the summer of 2016, when I decided I needed a break. I left my job at the club, packed up or sold most of my belongings, and flew out to Australia to see my sister. I spent 2 months in Australia, visiting friends, and a few weeks in Thailand. I flew home with a sketchbook full of ideas and thoughts, and ready to go back to work!
Since late 2016 I have been working hard with some new businesses, branching out and taking on some more and varied work, working on the more creative side of my business, and of course, having a child. I started working part time for Paignton Zoo at Christmas, and although the pandemic has slowed down, postponed or cancelled some of my work, I've been using this time to work on my website and business, learning some new skills and getting some ideas together for new ventures.
In brief, over the last 10 years I have worked for just over 70 different companies, businesses and organisations. I have designed and produced newsletters, business cards, banners, leaflets, signage, logos, website, specification sheets, measurement sheets, branding, emails, magazines, flyers, information packs, packaging, product photography, adverts, book covers, stickers, props, blackboards, brochures, annual reports, invitations, flags, maps, posters, loyalty cards, infographics, reports, programmes, product development, podcast artwork, and Christmas cards.
I've spent over 16,000 hours at a computer, drank approximately 18,500 cups of coffee, and worked my way through 25 notebooks. I've had 5 different computers, and worked my way through several different Adobe Creative versions.
So, what's next…?
As I mentioned, I have been working on learning new skills and thinking a lot about the business during lockdown. My life has changed a lot since I started!
Firstly, I am going to give the website a bit of a refresh, nothing major, but it needs updating and tidying up. I'm hoping this will be done in the next few weeks. I want to take on some different projects, I have been working on lettering and book design, so I'm hoping to branch out n this direction a bit more! I also want to improve my social media presence too.
Secondly, I want to work on a more creative side of the business. I have some works in progress ready for the Etsy store, and will be re-launching soon with more products. I'll post more soon, but there will be more paintings, lettering and calligraphy and cake toppers.
Thanks for your support over the last 10 years, and here's to at least another 10!